Five Reasons Paintless Dent Removal Says, "No!".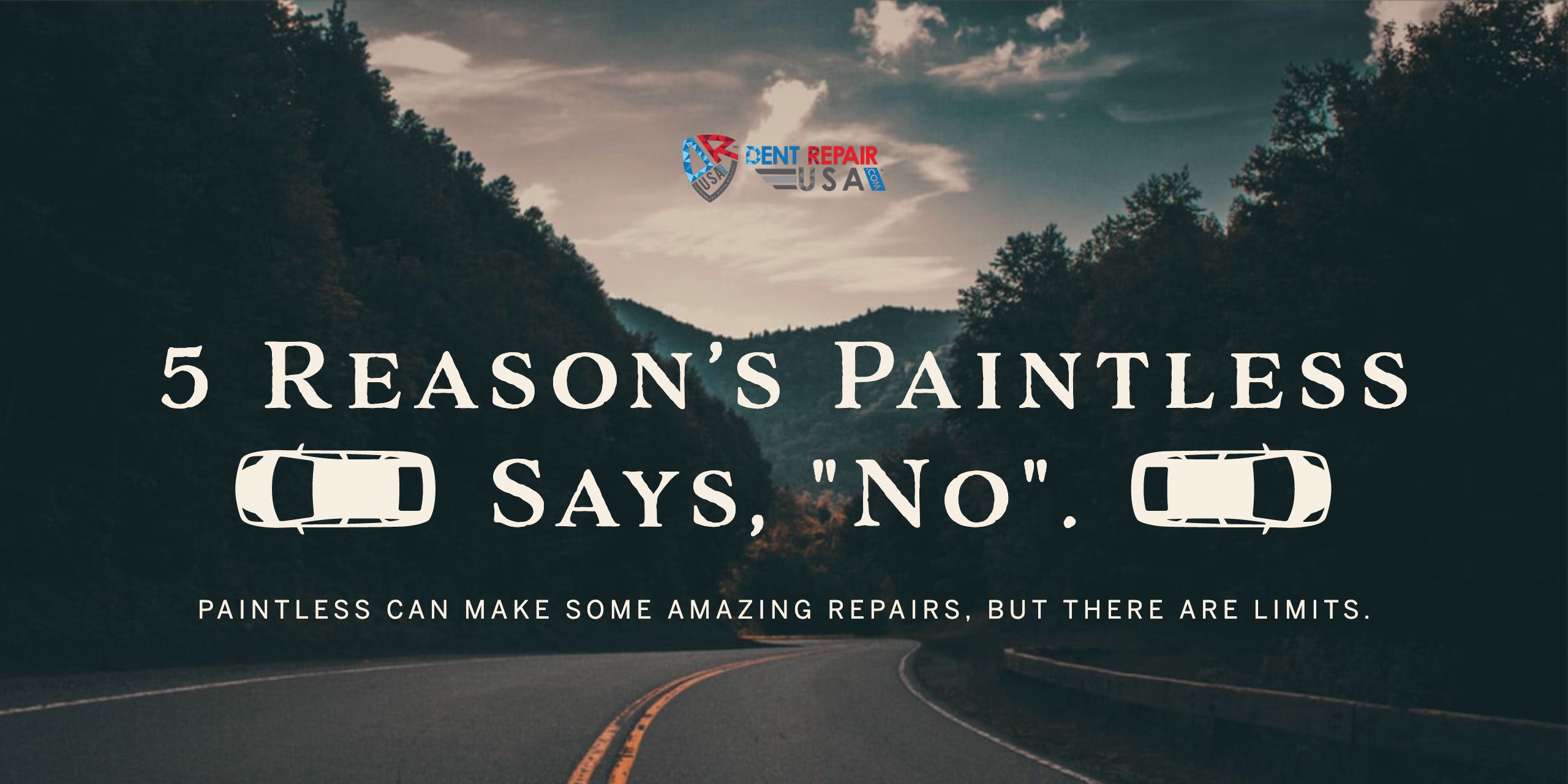 Although Paintless Dent Repair can significantly improve and totally eliminate most dents and dings.
It does have its limits.
Here are five
major examples
of when dentless isn't an option for your repair.
Here is what paintless dent repair (PDR) cannot do, when searching for a dent puller.
Repair parts that do not function properly

.

Non-Functioning Parts: First, windows that don't roll up or down. Second, doors that won't open due to collision. Third, brackets and panels that have been moved into the unibody and finally metal that has been folded back on top of itself.

These will stop a dent doctor right away.

If they are telling you, no don't try to do a DIY paintless yourself.
Replacement of major parts

.

Paintless Dent Repair does not replace major parts on a vehicle, such as a fender or a door. This includes but is not limited to headlights, glass, and bumpers. However, they do often remove doors, hatches, hoods, headliners, headlights, any and all interior trim. You should take major replacement parts to a local body shop.
Crumple Zone Damage Near Edges.
Edges

are very difficult, especially on large dents.

They can make major improvements

but not 100% perfect. Understand that to a technician an 80% repair is past what the naked eye will typically notice, so you must set your expectations accordingly. The higher the quality of the technician, the higher the quality of reviews.
Microscopic World View

. PDR technicians are often giving long-winded explaining inadequate perfection, but the customer is dumbfounded, trying to see what they are talking about.

To the technician the last 10% is huge, to the customer, they don't see it.

Why? Because PDR technicians live in a world of the microscopic. They are looking under a microscope type of device all day long, and they are striving for perfection.
Crumple zones

or areas where the metal meets the metal makes it

impossible to get a tool behind

the dent to make adjustments. They may still employ glue pulling techniques, but that is limited. There are also several other clamp-like devices that are in use but it often jeopardizes the metal's surface from behind.
Safety: Work on Panels with Moved Intrusion Beams.
Intrusion beams

in your vehicle's inner shell are basically the structural skeleton. If one of these beams has been significantly damaged or moved, Paintless Dent Repair may still be possible but no qualified technician will touch it, due to the safety issues involved. No car dent repair is worth a life. Protecting people in the event of a collision is more important than making the outer shell look pretty. Why?

If an intrusion beam has been displaced, the entire panel may fail in a collision

, or not set a sensor off at the appropriate time. If this occurs, it could cost someone a life. Even if, there is a slight possibility of danger to any occupants in the vehicle, no respectable PDR technician will attempt a repair, for any amount of money.
Paint Damage

: if you are searching for, "Paintless dent repair near me," don't expect them to repaint your car. We may be able to fix your dent, with dentless repair, but if you have major paint loss, do not pressure a PDR technician into a job that has significant loss of paint. Attempting a repair in the dark equates to an educated guess in the one area that conjecture should be prohibited.
Repair Process

: How the magic happens is by reading the paint. If the paint is gone the technician is making adjustments in-the-dark.
Dark Adjustments

: When making adjustments to the surface of your vehicle, the technician is reading micro indicators from the paint's surface. If they lose that, everything within the paint loss area is a total guess.
Certified Technician

: An experienced technician will be able to judge where the tool might be at, with greater accuracy than a new technician. So, if you do have any kind of paint loss, you really do want the very best working on your vehicle. Although this is generally true of most dents, in this case, it's doubly true.
Touch-Up

: No matter, the quality of paint, how well it's applied, touch-up will be noticeable even if wet sanded down and it's perfect. We cannot fix missing levels in the painted surface and layering touch-up to fill in the gap looks worse than just applying the least amount possible. This includes bumpers, plastic parts, and metal's of all types, with a painted surface.
With very light paint loss, the size of your fingernail, these repairs are still possible and the variable percentage loss will be imperceptible with the naked eye.
All of this is highly situational and it is wise to have a technician take a look.
The primary goal is to prevent further cracking, which can be achieved with focus and consistent heat in the area worked. Again it comes down to skill, in these cases: the most experienced technicians are
Vale Certified, NAPDRT Member, ARC Certified, and to a lesser extent PDR Nation members.