Never Purchase Dent and Ding Protection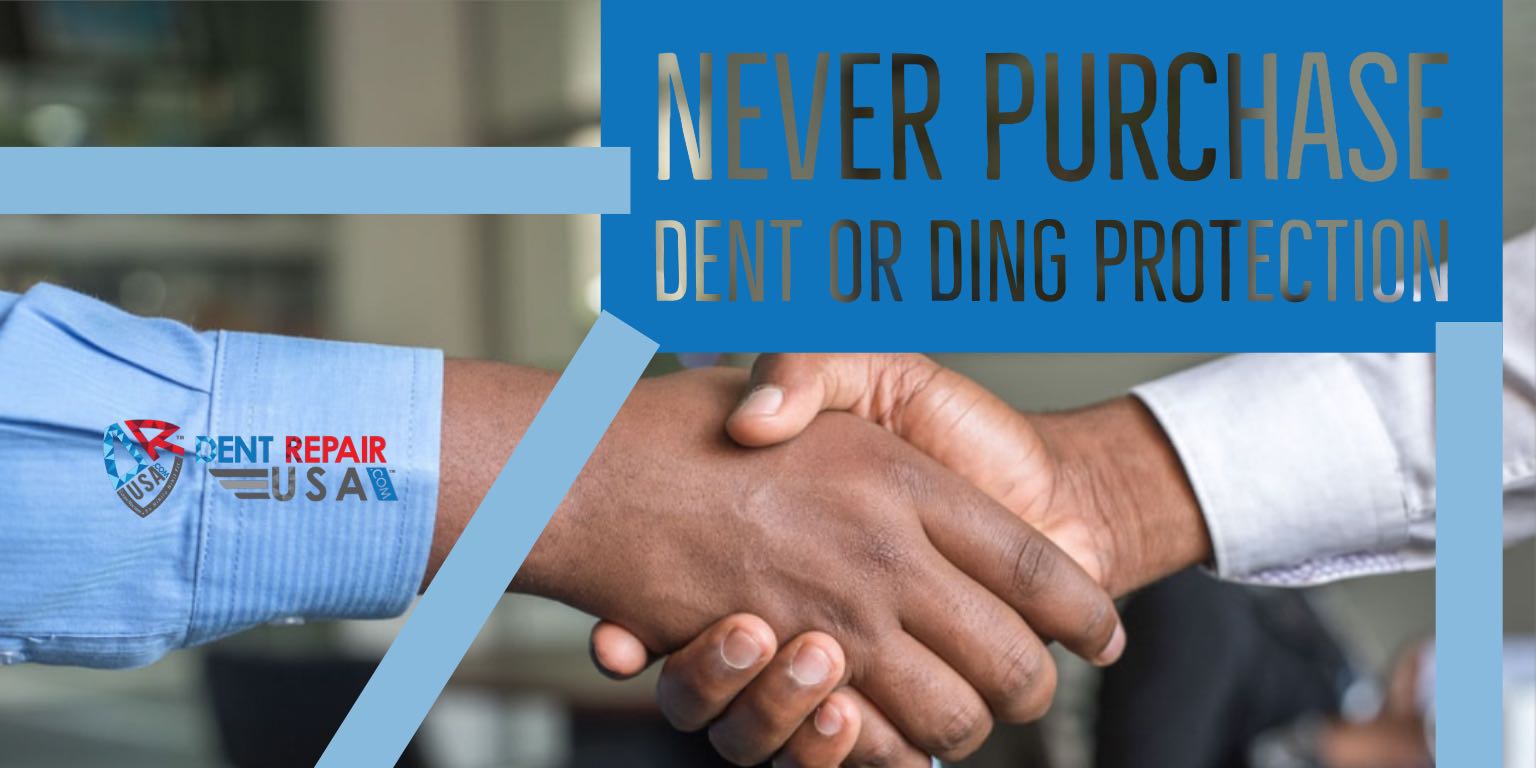 Should You Purchase That Dent Or Ding Shield Program?

Hello, I'm a Paintless Dent Repair technician and I've "closed out" thousands of repairs, from all of the major dent and ding policies. Notice that I didn't say, fulfilled, I said: "closed out". That is because over 80% of those making claims are being denied for two main reasons.


One, it's not in the tech's best interest to fix the dent (No fiscal motivation to repair or deal with the paperwork).

Two, the guard plan, does not cover the damage, even for small dent repairs.

Don't purchase a product that you don't need, from a third party that doesn't fix dents, for something you cant use if they did.

Here are several major carriers to avoid:
1.
Safe-Guard
2.
Vanguard
3.
DentGuard
4.
AutoNation
5. Ding Shield
6.
Dent Zone
7.
Auto Body Guard
8. Signature Finish
9. The Warranty Group
10. IAS Direct
Five Reasons To Never Buy A Dent Protection Package
1.You're already covered: don't waste money on a false sense of additional protection.


New car buyers must have automotive insurance that covers major and minor damage. When you get an automotive insurance policy, you also get a primary handler in your region:
they will help you solve these little dents when they arise
. Therefore, you don't need to feel trapped by your lack of understanding within the auto body and paintless dent repair industries. Your insurance agent will know local dent repair shops that can meet your needs,
without filing a claim and damaging your premiums
. Also, you can simply do the heavy lifting yourself, and do a google search for "mobile dent repair near me." In a nutshell, don't let fear be your reason for paying too much for a dent and ding policy, you just don't need it.
2.These Programs Run on Typical Bait and Switch Tactics.
In short, they do not protect consumers, like they say they do, or in the way that claimants need to be covered. The wording on the policies is very slick and if you are not paying attention to the fine print, you will get taken to the cleaners.
Claimants often think that all of their dents and dings are covered, but once they get a dent, they learn the harsh truth, too late.
For example, a three-inch crease, caused by someone opening a car door into yours, is not covered by most of these policies. To be clear, these policies are not willing to pay out for typical damaged locations, aluminum uncharges, typical bracing obstructions, and removal or installation of parts: which is often required to do the job right. They are not committing fraud, but
they are offering a promise that you don't actually need, wrapped in a guise of something that you will need.
3. Dent Protection Policies Are Often Separate From The Dent Repair Industry.
That is to say, most of these companies are not in the automotive industry. In fact, they are clueless about pricing and quality for paintless dent repairs. As a result, they are going to find a cheap auto dent repair near you, at the lowest possible dent repair cost to themselves. They have no industry standards about who they hire to repair your car!
The amount you spend on coverage would be better saved to hire a professional, when or if, you get a dent in the future.
There are four primary certifications for paintless dent repair technicians. Click one of these links and search for a local technician below. If you cannot find one in your area, simply call the closest tech on one of these lists -- they can help you find the right person in your area.
1.
PDRNation
2.
NAPDRT
3.
VALE
4. ARC
4.
Claimants Do Not Have A Choice About Who Works On Their Vehicle.


In the mid-'60s, within the body shop industry, many Federal and State laws were written in hostility towards "steering" practices. These were enacted, to protect consumers from the type of activity, these "protection policies" promote. Today, large automotive
insurance companies cannot "steer you" to a preferred shop, because it's illegal.
Although, it's still prevalent in the hail dent repair industry.
Why purchase a plan, that will 100% lock you into that failed system?
You can only imagine what was really happening within the body shop industry during the 1950s: insurance companies were controlling the shops and cutting every corner possible to increase their financial position. As a result, this led to shady work that didn't have vehicle safety in mind.

These dent protection programs bypass these laws by being a club like AARP or AAA. Make no mistake, you are not "insured,"
you're just joining a club.
All this club really does is contact a paintless dent repair company, something you can do for free. They assume they are going to get commercial pricing from quality technicians due to their commercial status, but that is changing rapidly. As more consumers learn about the value of paintless dent repair, the prices are increasing nationwide. As a result,
dent protection clubs are hiring anyone who says they can repair your dent
, for cut-rate deals: the absolute lowest paintless dent repair cost. As a result, you are paying triple the normal cost of these repairs, for the worst possible outcome. They do not have their "club members" best interests at heart, they are only concerned with their profit margins.
5. It's A Profit-Generating Powerhouse For Dealerships, Not A Car Dent Repair Service For Customers.
Why can consumers only get these policies at the time they purchase a new vehicle?
The answer is a simple one after all — it points to the real motivation,
money
. It should be noted that most dealerships employees, do not know these truths, they are just selling a product they know nothing about: if they knew, they would not sell it.
You will also find that many small dealerships do not sell these policies, usually because the owners understand these clubs and cannot afford negative reviews since their customer base is so small.
In a large corporation, however, it's easier for these problems to get lost. When a real complaint is filed, it's simply pushed over onto the club: where it rightfully belongs. In the end, it's just a vicious cycle of wasted time and money for the customer, for minor dents.
Let's do a bit of math to illustrate what is really going on: the average large dealership is selling 40-120 cars a month and around 25% of those purchasing a Dent Protection, of some kind. At the very minimum, that equals about 10 policies signed per month, which cost a minimum of 500$-2500$ each, for the consumer. That equals about 25,000$ a month and the dealership receives about 30-40% of that, over the life of the loan. On a low month, a dealership can hope to earn around 7500$ from selling just 10 policies! A claim center earns around 17,500$ a month from a single dealership, with 60-70%. They can expect to claim less than 10% of those policies over the life of the club membership, for a total of 1750$, outgoing claims. Traditionally, they refuse to pay anything over 50% of the market price to local technicians.
The average dent or ding costs around 150$ to repair, but they are only willing to pay out 75$. As a result, most qualified technicians, don't have time to fulfill these claims: they simply cannot afford it and it's not worth their time. This waste of time typically comes in two forms:
One, claimants often have damage that is not covered by the club policy.
The technician is not paid for determining that your claim doesn't fall into the category of the club policy. Since most claims are denied its a huge waste of resources for small business owners.
Two, dealing with these companies is a huge waste of time from a logistical perspective
: paperwork, multiple phone calls, sending images back and forth, specialized forms for each company, and then the tech might get paid in 90 days.
In closing, please save your money and call a paintless dent repair company, if you ever get a dent. Don't join fake clubs, use google yourself for, "mobile paintless dent repair near me."